Historic Office
---
Spiral Design Studio's office is the proud recipient of the New York State Office of Park, Recreation and Historic Preservation Award for outstanding contribution to advancing historic preservation and revitalization efforts in the City of Cohoes.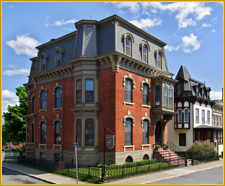 Through an effective combination of vision, creativity and hard work, Spiral Design successfully preserved and rehabilitated one of the community's distinguished historic residences, infusing new life and vitality into the property and stabilizing and enhancing the surrounding neighborhood.
The repair and adaptation of the elegant Second Empire style house at 135 Mohawk Street, for contemporary commercial and residential use, demonstrates that historic preservation helps advance an array of community development goals – recycling existing resources, stimulating economic development, and creating jobs.