---
---
Spiral Design Donates Expressions Arcade to Assist Autistic Students
Spiral Design Studio, in collaboration with Wildwood Programs and Gavant Software, proudly announces the design and development of the Expressions Arcade, an exciting cross-platform developmental tool for students within the autistic spectrum.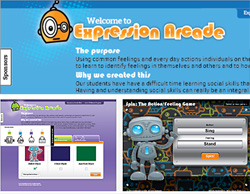 The Expressions Arcade helps students to identify and convey their feelings and improve social and conversation skills through a fun, interactive app for iPhone, iPad and other mobile devices.

"We're very excited about the Expression Arcade and its potential as a motivating, innovative way for our students to acquire social skills in the areas of conversation and feelings acquisition. We are enjoying working with the Spiral Design team on this project and are truly appreciative of all the time they've dedicated to it," noted Tami Crisafulli and Gwen Buckley of Wildwood Programs.

The Expressions Arcade is one of Spiral Design's annual pro bono projects. Ultimately, it will also be available for use by other organizations worldwide as an open web-based system.

Spiral Design's managing partner, Robert Clancy, stated "Using our design and development expertise to help so many with skills that may seem innate to most is incredible. If students can use the Expressions Arcade to learn to identify their feelings and hold meaningful conversations, they'll grow in their confidence, social skills, interpersonal relationships and beyond."
For more information about the Expressions Arcade, or the design of other custom educational tools, please contact Spiral Design Studio at (518) 326-1135.